This diversity we're talking about is due to an island that has a particular orography due to its volcanic origin, which has caused that from its insular epicentre different chains of ravines are born. Thanks to this, we can appreciate microclimates, giving an enormous variety of both flora and fauna. You'll discover them and more thanks to these hiking routes in Gran Canaria.
 
Therefore, if you're fond of walking in the middle of nature, and you're planning to travel to Gran Canaria, we're going to show you several routes so that you can enjoy your hobby and the nature that this immeasurable island treasures to the maximum.
Hiking in Gran Canaria
In total, there are about 281 hiking trails for you to discover within the region of Gran Canaria. To get a first glimpse of what's awaiting outdoor enthusiasts like you in Gran Canaria, we created a short highlight list.
 
Next we'll begin to describe the most emblematic trekking routes in Gran Canaria. These are very distinct places with majestic characteristics to enjoy a day of mountaineering and not only known for its spots, but for its endemic flora and fauna that you can only discover if you pick any of these routes.
1. Azuaje
The surroundings of the northern municipality of Firgas is all about water. In the narrow, an all year round green valley of Azuaje, where a spring is gurgeling, relicts of the old laurel growth forest are still intact.
 
The one who has some extra time to spend, finds here a wonderful place for a picknick. Later, the trail becomes narrower and more jungle like. Within the wild surroundings, after wet winters, some pools will form to cool off hikers feet.
 
This route leads you on an adventurous hike through a dense forest on the bottom of a gorge, where you will enjoy a changing scenery. Sometimes more open, sometimes cave-like dense forest. Sometimes flat along the stream, sometimes up and down. It includes climbs over big boulders and impressive views to the cliffs of the gorge hanging above you.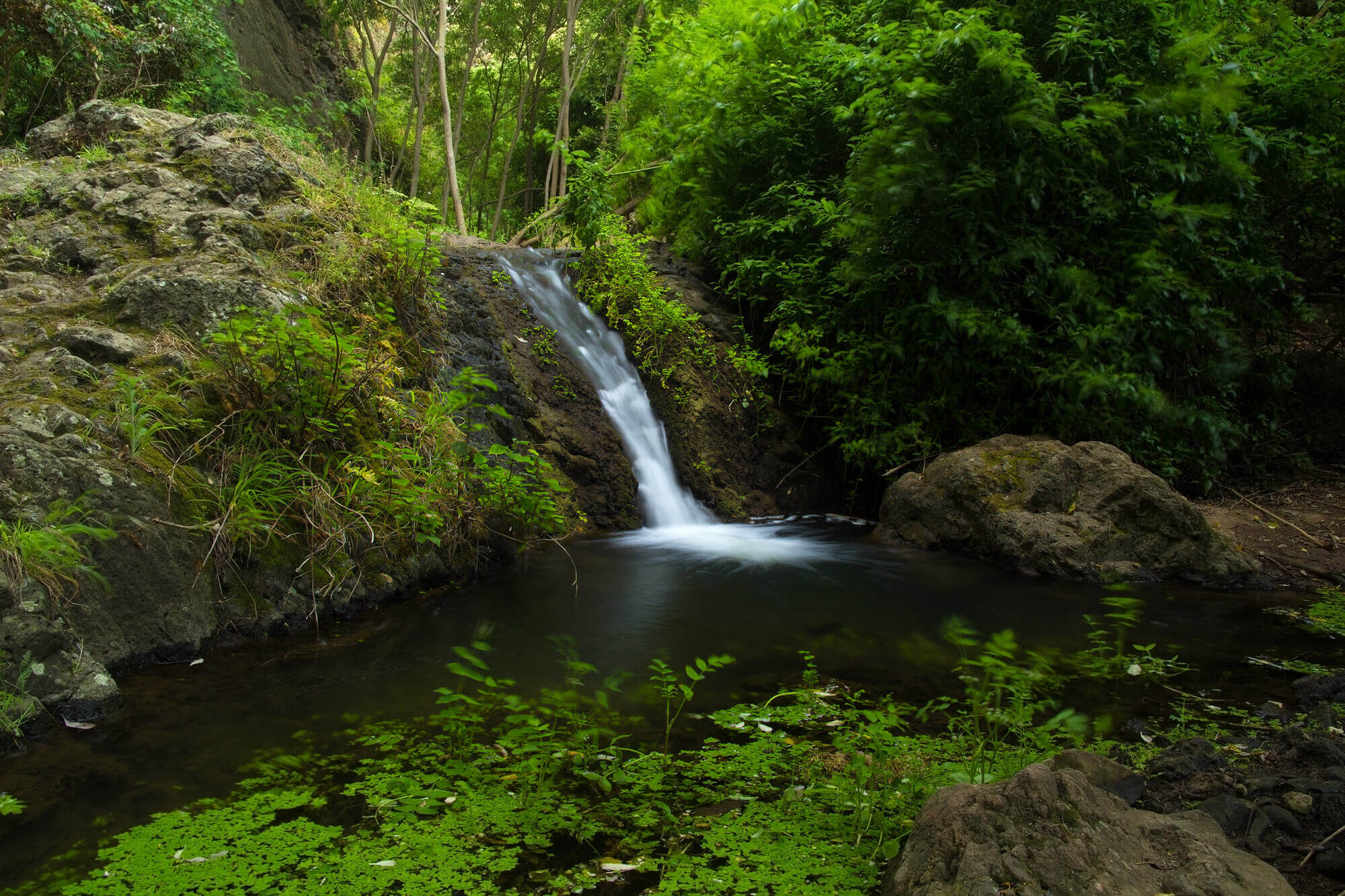 2. Los Tilos de Moya
Hiking in Gran Canaria won't be the same if you embrace the natural splendors of one of the greenest areas of the island and discover the historical treasures and wonderful flavors of the northern municipality of Moya with a friendly and knowledgeable hiking route through the verdant Tilos de Moya, a part of the protected Doramas Natural Park.
 
The walking route along the valley –home to a small natural spring and endemic plants, including the trees for ancient Laurisilva forests unique to the Macaronesia region– will follow, most of the time, a canyon which accounts with a small spring that favours the rich vegetation growing all over the valley. Little by little the valley becomes narrower, with side walls of more than 100 metres high.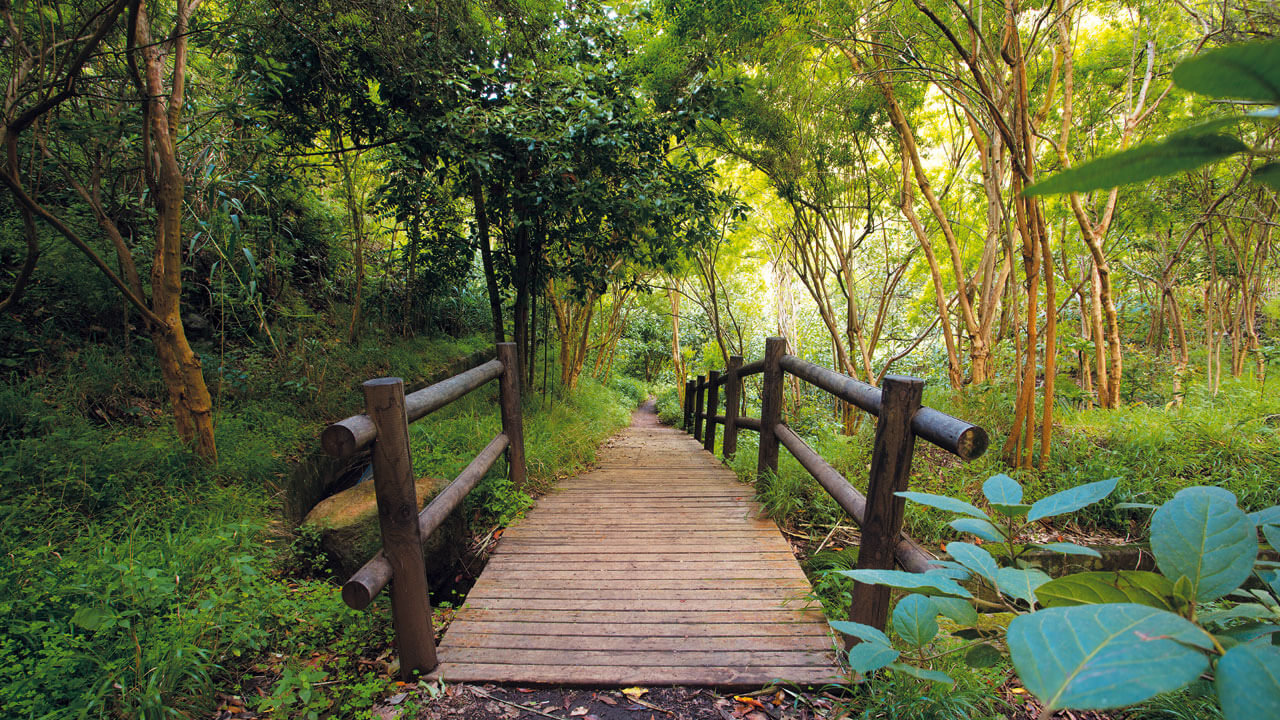 3. Barranco de los Cernícalos
Barranco de los Cernícalos is considered by many an oasis for hiking on this island, as it is one of the most beautiful places in Gran Canaria where you can go for hiking with the whole family without worrying. Obviously, on the island there are nicer places to hike, but its difficulty makes them not as accessible as this one.
 
It is a path suitable for almost all levels, very well conditioned and signposted. With more than 8 kilometres round trip, the road will be made in a total of about 4 hours, with mandatory stops to enjoy the way.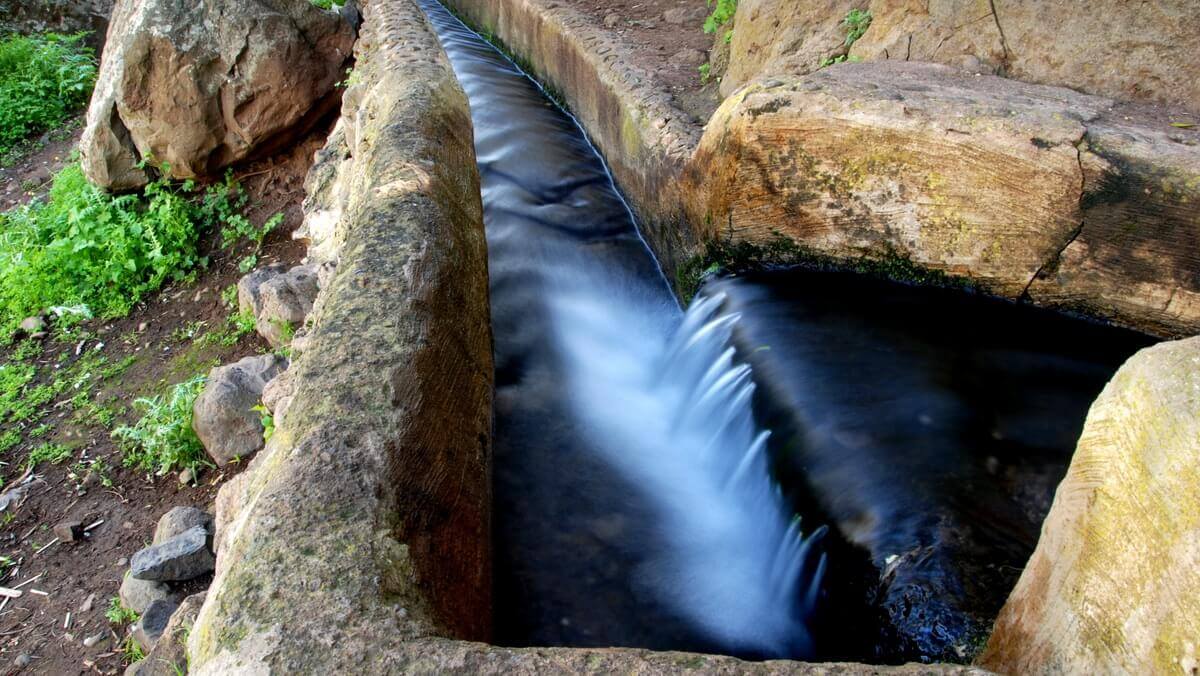 4. Charco Azul
If you really want to enjoy hiking in Gran Canaria, this route is made for you. There is a well guarded and little-known secret to the west of Gran Canaria, where hectic hustle and bustle can be calmed down with a relaxing bathe in a fresh water pool. This place is called the Charco Azul.
 
You will find yourself in a stunning piece of countryside that seems to draw you in and keep you walking on and on. As you make your way through the ever-changing daytime colours of the ravine, you are treated to a gorgeous spectacle.
 
You can cast your eyes over the hillsides of the ravine, with agricultural plots that are dotted about with Canary palm trees and pools. And you are on your way to one very special pool here. This is the final destination of your ramble. After around half an hour's walk you come to the Charco Azul.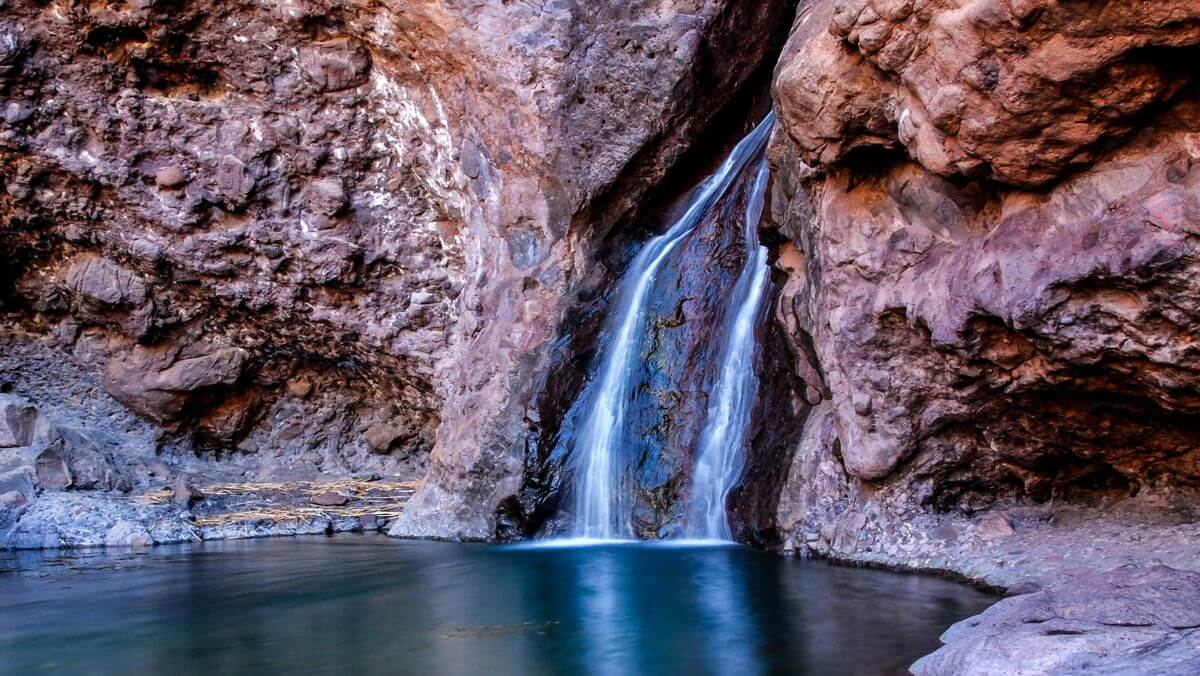 5. Roque Nublo
Near the beautiful village of Tejeda, the Roque Nublo route starts from the main road, from where you walk 1.5 kilometres to the proximity of the natural monument and its brother, Roque de la Rana. Before getting there, you go past another natural monument, the Roque del Fraile.
 
This route, which is 5 kilometres long allows us to see the great dams of Las Niñas, Chira and Soria and the villages of Artenara and Acusa. The views from the Caldera de Tejeda, Llanos de la Pez and Pozo de las Nieves are well worth the effort the route entails.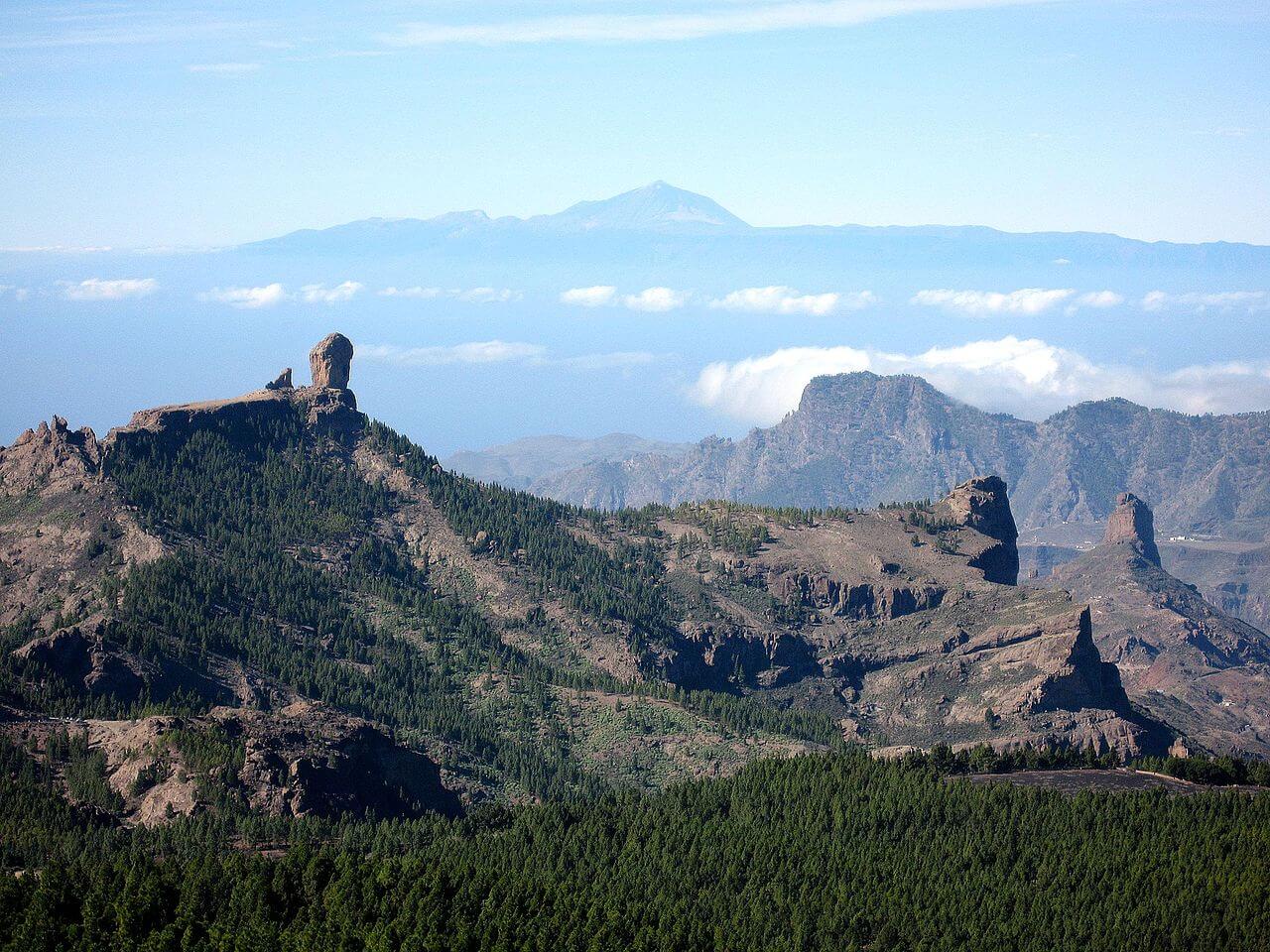 In conclusion, hiking in Gran Canaria is an experience that will take you far, far away, both physically and mentally. Besides, the majority of the routes offer the guarantee and tranquility of knowing that they have been devised by professionals and are approved and marked out, thus providing all the necessary means for hikers of all levels.