Where the Papagayo Beaches are: location

These wonders of nature are located in the south of the island of Lanzarote, specifically in the municipality of Yaiza. It is around the Punta del Papagayo that the best beaches in the area are located (also known as Costa Papagayo).
 
This group of beaches is located between the Natural Monument of Los Ajaches (a volcanic massif of great aesthetic and scenic importance with an evident geological monumentality) and the tourist town of Playa Blanca.
How to get to Papagayo Beach in Lanzarote
To reach these impressive beaches you only have to travel along one of the main roads of the island, the LZ-2 until you reach the town of Playa Blanca. From there, head east along Avenida Femés avenue and follow the signs for Papagayo.
 
As these beaches are located in a protected natural environment, access to them is controlled. In fact, you have to pay three euros per day to enter. In addition, the road is dirt.
Since there are no buildings or trees in the area, it is advisable to be well provided with hats, sunshades and sunscreen. Likewise, nudist fans will have no problem enjoying nature to the fullest.
What are the Punta del Papagayo beaches
Below we show you the beaches that make up the Papagayo Coast.
1. Playa de Papagayo
The beach that gives its name to the area is possibly the most beautiful and, of course, the most visited. It is a small cove of white sand in the shape of a bay or shell (as it is locally called) with crystalline waters that are so still that it resembles a natural swimming pool.
 
This is why it is ideal for snorkelling and for families with children, as the little ones can enjoy themselves to the full without any worries. However, there is only a small beach bar at the top of the hill where you can buy drinks or food. It is, without doubt, one of the places to enjoy the sunsets in Lanzarote to the fullest.
2. Playa Mujeres
This is a beach with fine white sand, ideal for those who want to enjoy nature and relax away from the worldly noise of the day. Its 400 metres in length with very little waves make it perfect for people of all ages to enjoy. The impressive natural environment that surrounds it is proof of the island's desert landscape, bathed by a sea that ranges from turquoise to intense blue.
3. Puerto Muelas
Another of the most popular attractions of the nearby Papagayo Beach in Lanzarote is this little jewel of nature about 130 meters long. It is the easternmost in the area and, although it used to be frequented almost exclusively by nudists, today it is more popular in the low season, especially because of the peace and privacy that reigns there.
4. Caletón del Cobre
This small, unspoilt cove on the southern coast of Lanzarote is bathed by blonde sand and calm waters with almost no wind. Its 52 metres in length are good proof that it is a small place where calm and tranquillity reign. It is necessary to bear in mind that it is a beach where nudism is practiced.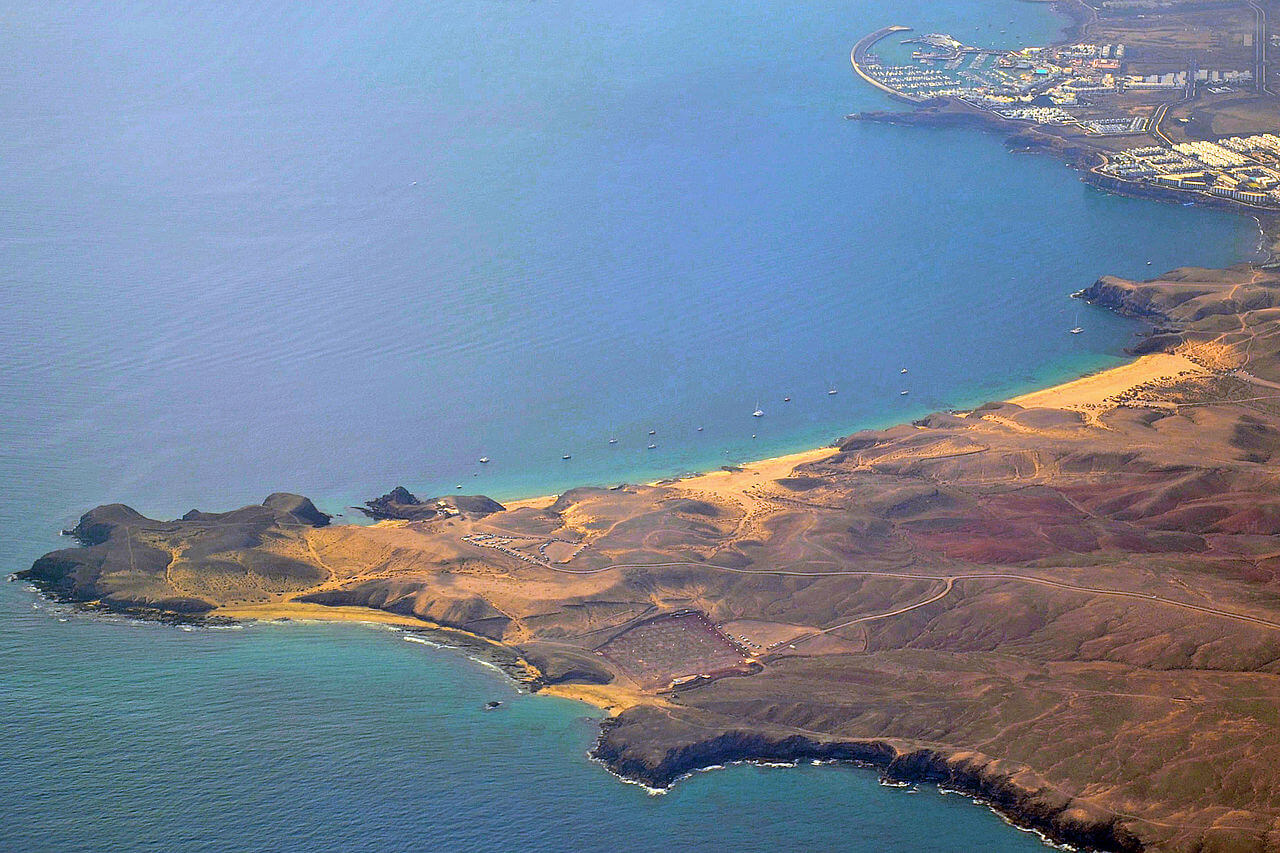 5. Caletón de San Marcial
This wild white sand beach is also, like the previous ones, one of the most important attractions for nudists. However, it is a mixed beach where everyone has a place. Its scarcely 35 metres in length show the dominant tranquillity of the area. It must be taken into account that the level of occupation is usually high in the summer season.
6. Playa de la Cera
Without a doubt, this is an excellent place for beach lovers. It is an ideal little corner to spend the day. Its calm turquoise waters and fine white sand are from another planet. As it is a virgin beach, it is not very crowded compared to the others.
7. Playa de la Cruz o del Pozo
No wonder this beach impresses with its golden sand, fascinating cliffs and crystal-clear waters. Fans of nudist culture will feel at home here, as not only does the surface of the sand offer a lot of space for privacy, but also small caves in the rocks protect from unwanted glances.
8. Caleta del Congrio
This beach is ideal for the practice of nudism, as it is less frequented than the previous ones. The fact is that the area is quiet, with hardly any wind or strong currents. It is also an ideal place for snorkelling.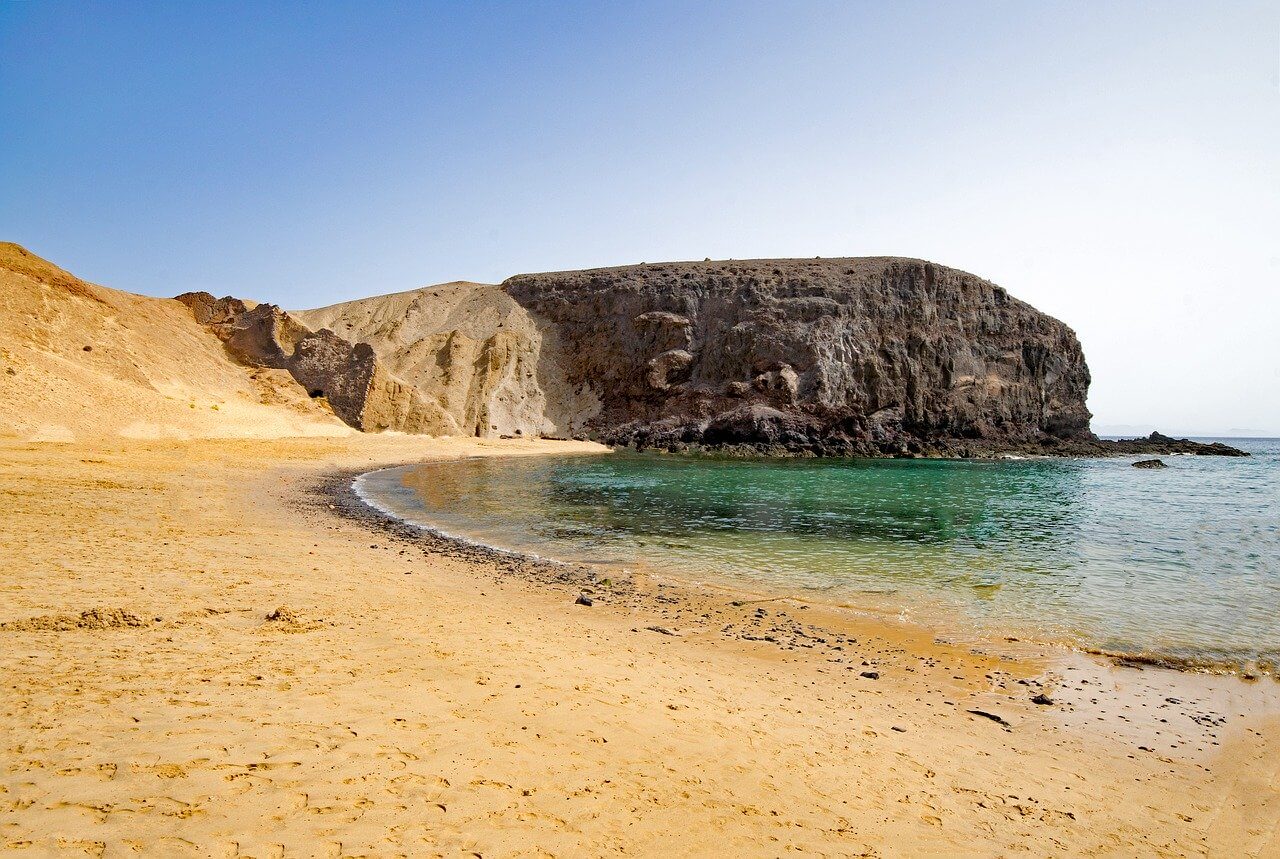 Costa Papagayo, the ideal beach destination
As you may have noticed, the Papagayo Beach in Lanzarote and the other ones are an ideal place for all lovers of the coast in general. Here you can enjoy an excellent day on fine sand with crystal clear waters and hardly any wind. What are you waiting for? From our spectacular HD Beach Resort & Spa you can get there by car in just 45 minutes.