We've managed to keep these magic places secret up until now, but it's difficult when so many people are desperate to spill the beans. So, we're letting you in on the secret now because it's impossible to keep their lips sealed forever.
 
For this reason, HD Hotels & Resorts pays tribute to the most outstanding and emblematic towns on the island, which year after year attracts visitors from all over the world, primarily for their beauty and charm. Keep reading to discover another side of the island.
5 villages in Gran Canaria you must visit
You will fall in love with Gran Canaria from the very first moment you step on it, as the island is a tiny continent where you'll find lots of experiences that make every day special: golden beaches, stunning landscapes and a big city full of fun things to do. But, apart from that, Gran Canaria has charming villages that will make you feel like you are in another era.
 
That's why we are going to show you its 5 most emblematic villages that will change your perception of an island that is not only beach and sun, but also with high mountains, as its interior hides away an ocean of mountains, alternating between volcanoes and ravines.
 
Let's get started!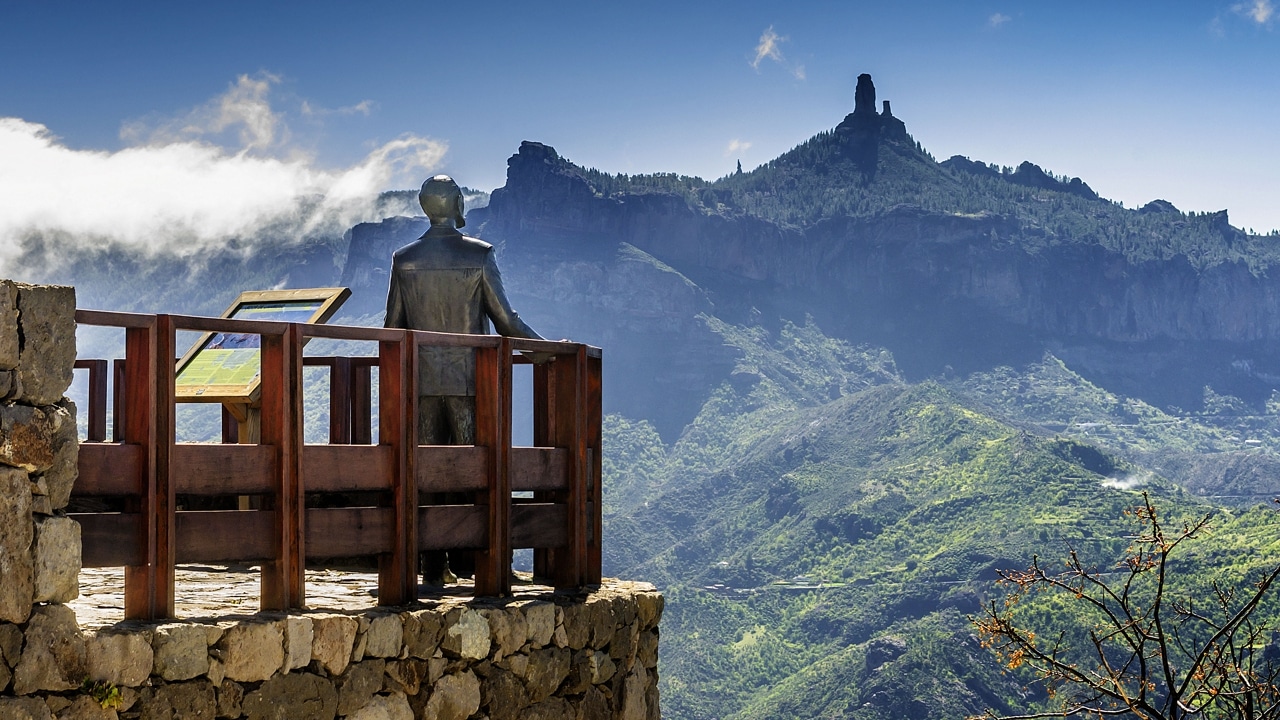 1. Artenara
Artenara is Gran Canaria's highest village and sits on a giant natural balcony surrounded by the rugged ridges and valleys of Gran Canaria's Biosphere Reserve. The surrounding terrain was described by the Spanish writer Unamuno as a "petrified storm" and the views out towards the iconic Roque Nublo and Roque Bentaiga, once sacred to the island's pre-Hispanic people, are spectacular. Artenara is a calm mountain village and perfect for taking a breather from the island's bustling resorts and coastal towns.
 
Artenara, one of the most charming villages in Gran Canaria, beckons you to explore its views and strike out into the forests of the Tamadaba Pine Forest Natural Park. The local cave houses, inhabited until recently but now converted into rural accommodation, give you the chance to learn about the old way of life. You can even travel further back in time at the archaeological site in Acusa. Artenara's church, with its belfry made of red stone from Tamadaba, sits surrounded by the eclectic yet simple houses of Artenara town.
2. Tejeda
Tejeda, right in the central highlands of Gran Canaria, is an almond town; its famous, traditional desserts all contain this healthy nut. 

In the shade of Roque Nublo and surrounded by valleys, the town is tranquil and charming and the perfect place for a rural retreat far from bustle and stress. Let the beauty of the mountains and the natural beauty of the area soothe your troubles away.

Like many rural Canarian towns, Tejeda centres around its church. The surrounding streets are packed with whitewashed houses with red tile roofs and little gardens full of potted flowers. The town's Museum of Traditions, in a typical traditional house, teaches you all about the rural ways of life in Tejeda throughout its history. There's even a municipal swimming pool if you feel like a swim and a sunbathe. Undoubtedly, one of the villages in Gran Canaria you can't miss.
3. Agaete
From highlands covered by the island's best preserved pine forest down to the clear Atlantic waters via a stunning, fertile valley and a pretty old town, the Agaete Valley in northwest Gran Canaria is one of the island's prettiest spots. The town, one of the prettiest on the island, with its whitewashed houses clinging to the valley side, contains treasures such as 19th century houses with interior patios, the Concepción church, and the wonderful walled Huerto de las Flores garden.
 
Before leaving the old town, it's worth visiting Gran Canaria's most interesting archaeological site: the Maipés necropolis. You also can't leave Agaete without visiting the seaside town of Puerto de las Nieves, with its whitewashed houses with blue windows. This is Gran Canaria's most popular spot for fresh fish right by the sea.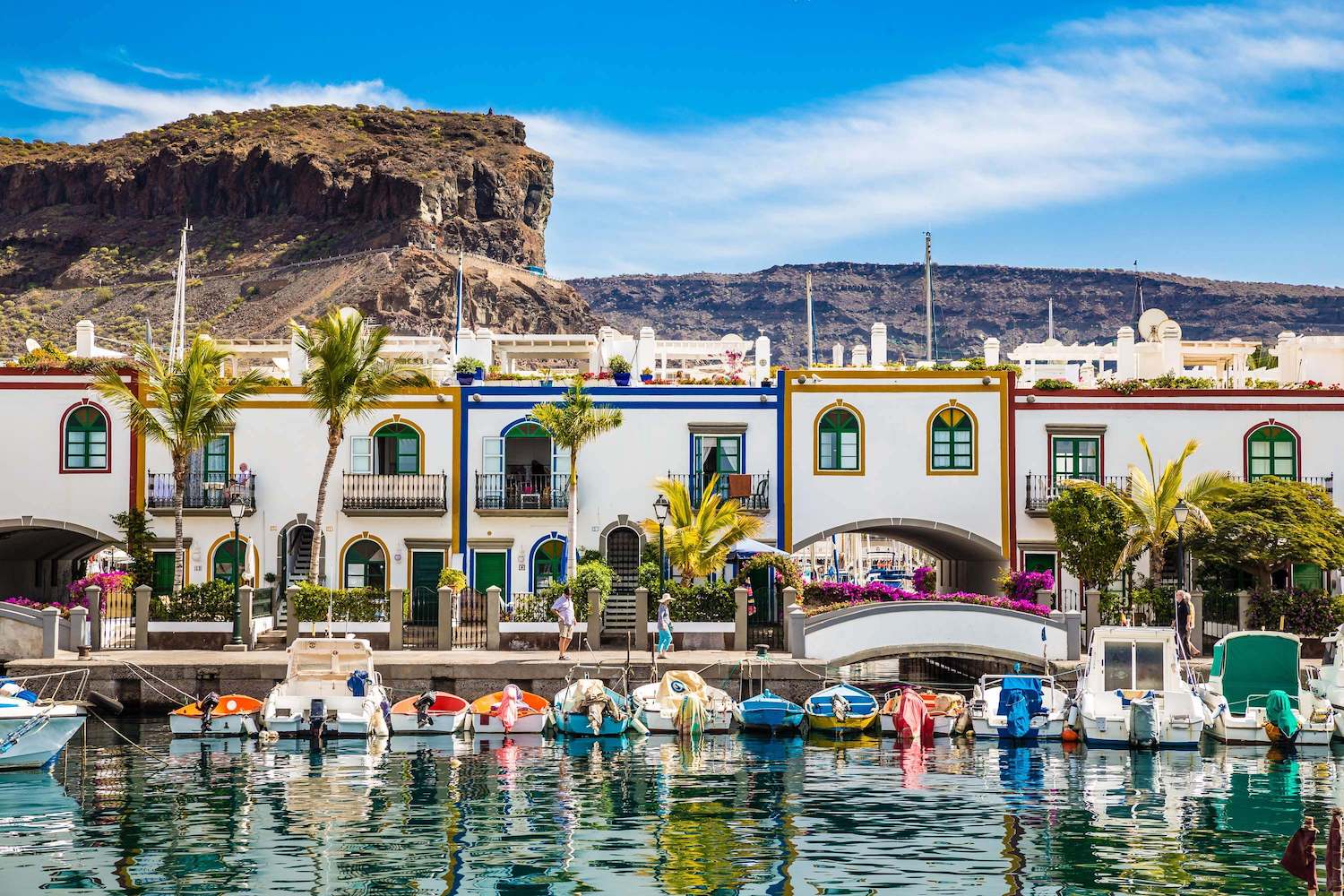 4. Mogán
This pretty, welcoming fishing village in southern Gran Canaria still maintains its local feel. Its spectacular architecture contrasts with its flowery gardens and bridged canals. The golden beach is so inviting that it's hard not to lie down on the golden sand or dive into the calm water as soon as you arrive.
 
Mogán has more sunny days that almost any other place in Europe. This explains its laid back, friendly atmosphere and the sunny outlook of the locals. Peaceful Mogán, one of the villages in Gran Canaria you must visit, makes visitors feel happier as it connects them with childhood memories of idyllic holidays in villages and by the seaside.
5. San Mateo
San Mateo is located just 22 kilometres from the capital. Nearly half of the municipality's land surface belongs to the Espacio Protegido de las Cumbres (Protected Mountain Peak Area). Strolling through San Mateo's old town, you can get back in time thanks to its direct relationship with the past.
 
Discover charming corners in this small, cool town, located in a valley surrounded by mountains. Here water trickles down into the valleys that surround it, forming waterfalls, streams and creeks of exquisite beauty.
 
San Mateo is famous for its large cattle and agricultural markets held every weekend that have become almost a tradition for many inhabitants from Las Palmas to do their weekly fresh fruit, vegetable and herb shopping, as well as that of cheese and other local specialities at these markets.
 
As you can see, this is an island different from any other that offers you the chance to savour its strange yet diverse natural surroundings, and also close to a sea of fine weather. Don't leave the island without visiting these villages in Gran Canaria and make your holiday a different experience you won't forget.