Where's Benijo Beach?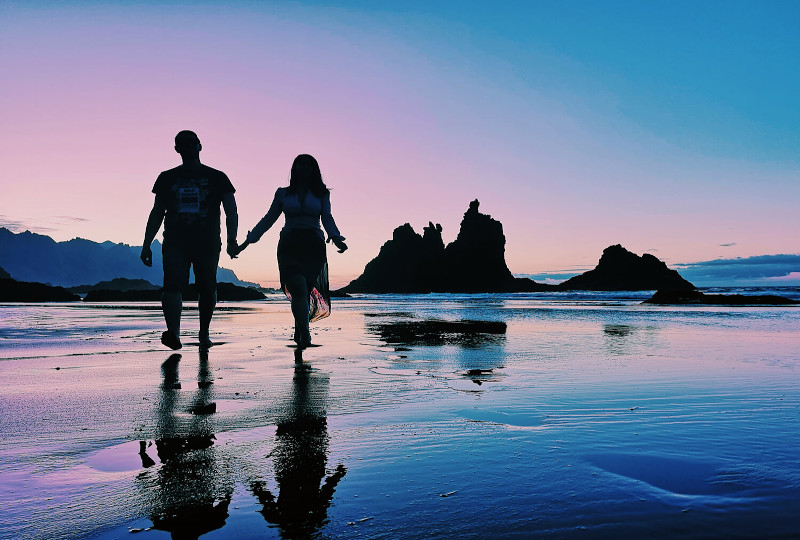 This wild beach is located next to the village of Almáciga, in the vicinity of the village of Taganana, belonging to the municipality of Santa Cruz de Tenerife. Specifically, it is located between Roque Benijo and Roque de La Rapadura, within the Anaga Rural Park in the northeast of the island.
How to get to Benijo in Tenerife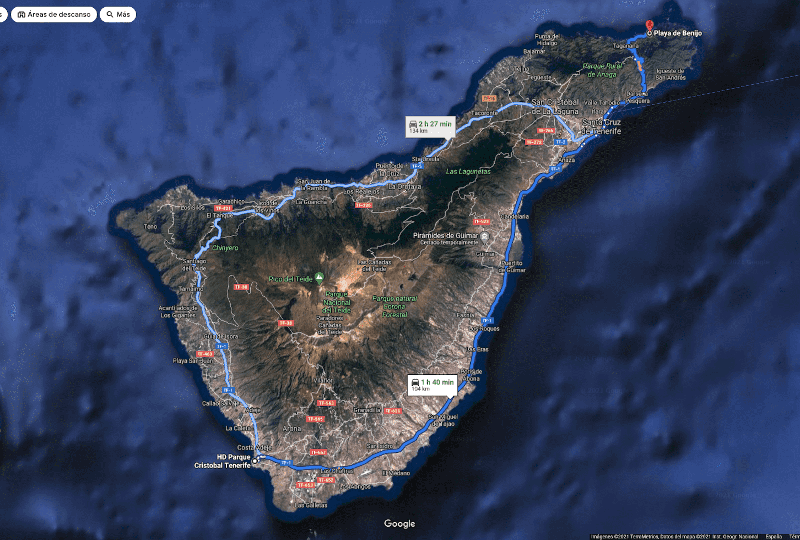 Let's say you are in the south of the island, specifically in the tourist area of Playa de las Américas in Costa Adeje, and you want to enjoy a different, less crowded setting in which to take a dip in the refreshing waters of the Atlantic. Is there a better option than Benijo? Probably not...
By private vehicle
If you can get there by car, all you have to do is join the southern motorway TF-1, the main one on the island, and continue northwards until you reach the outskirts of the capital: Santa Cruz de Tenerife. Then take exit 3 to join the TF-4 motorway and continue parallel to the coast along the TF-11 to the village of San Andrés.
 
You will now have to turn left and start a zigzagging ascent along the TF-12 that will cross the Anaga Rural Park from south to north, with the aim of reaching Benijo beach. After a good distance you will come to a junction where you will have to turn right towards Taganana and Benijo along the TF-134 until you leave the village of Almáciga behind you.

A few metres further on is the Mirador de Benijo viewpoint, where you can park your car and walk down the stairs to the beach. There are also some restaurants here where you can try some of the typical dishes of the varied and unique Canary Islands gastronomy, one of the tastiest in Spain.
By public transport
TITSA is Tenerife's intercity transport company, so if you go by public transport, you will first have to go to the Adeje Bus Station.

Here you will have to take bus number 110 to the capital of Tenerife, a journey time of around 1 hour and 10 minutes. Then, at the Santa Cruz de Tenerife Transport Interchange, you will have to change to line 946 to Almáciga for about 55 minutes.

Then you will have to walk along the TF-134 to the Mirador de Benijo lookout for about 20 minutes... or be lucky enough for someone to take you to your destination.
The weather in Benijo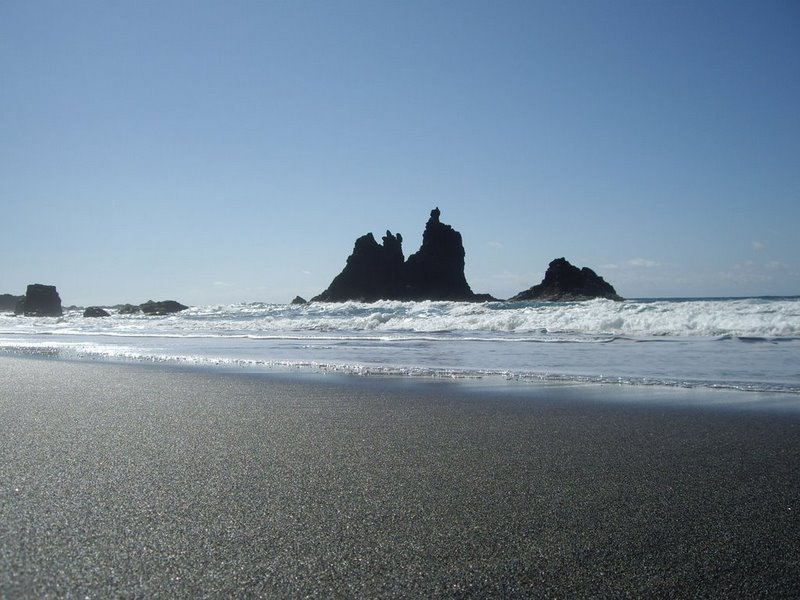 The pleasant temperatures in any season, the clear skies and the more than 3,000 hours of sunshine a year mean that you can enjoy this unique beach in the north of Tenerife whenever you want.

If there is one thing the beaches of Tenerife are known for, it is their clean and transparent waters, with a constant temperature throughout the year of around 20º, which ensures that it is not too cold in winter and not too hot in summer.
Interesting facts about Benijo beach
Location: Taganana (Santa Cruz de Tenerife).
Length: 300 metres.
Width: 30 metres.
Composition: black sand.
Access: on foot (via a path with steps).
Disabled access: no.
Type of beach: isolated.
Services: litter bins and cleaning service.
Parking: yes (less than 50 spaces).
Bus: yes (intercity).
Coordinates: 28° 34' 33.65'' N 16° 11' 11.48'' W.
UTM coordinates: X: 383,959.80 Y: 3,161,587.84 H:28.
Where to stay to enjoy Benijo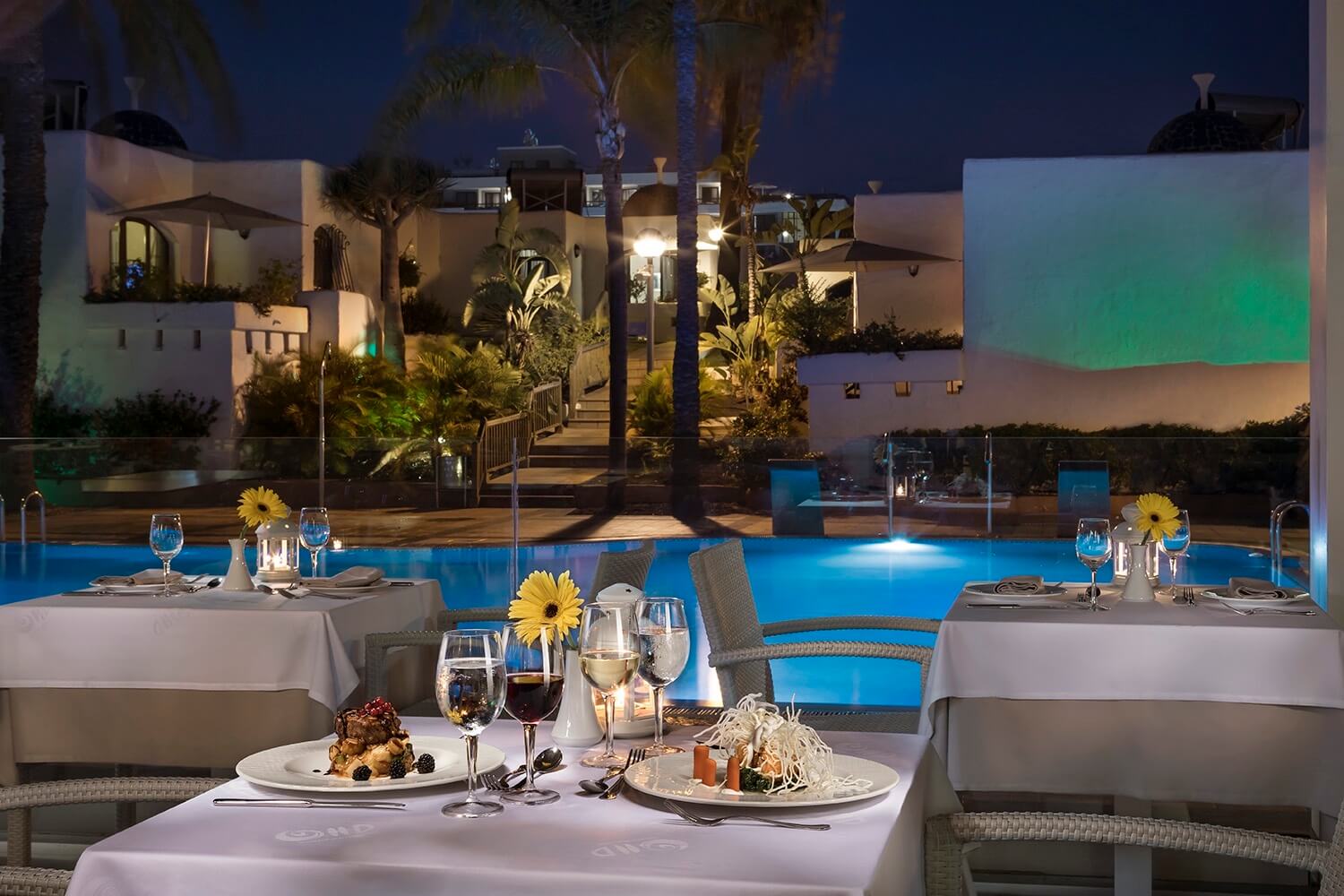 Tenerife has a wide range of accommodation on offer, but if you are looking for exclusivity, perhaps there is no better option than the following.
This hotel is a beautiful garden with 151 bungalows located in the south of Tenerife, in the very centre of Playa de Las Américas. Its large green areas, its two distinct swimming pool areas and its horizontal architecture make everyone feel at home in a privileged and environmentally friendly space, especially families.
 
This establishment won the award for Best Family Hotel 2020 in Spain in the Travellers' Choice Best of the Best of TripAdvisor, one of the world's leading tourism portals. Therefore, it is not surprising why this hotel sets itself apart from the standards of the area.
Benijo beach sources