Being in Lanzarote and not visiting Timanfaya should be a crime. This island stands for volcanoes, lava fields, rocks of capricious shapes, black and reddish ground. A harsh, forceful, wild landscape, where the most sepulchral silence also takes on a special role.

It's an island with impressive volcanic landscapes, sometimes reminiscent of the surface of Mars, which awaken unique sensations. They are inspiring, enigmatic and mysterious. They capture the visitor in an intimate connection that is difficult to explain, filling them with energy.
Why? Is it because it shows the power of nature? Because it brings us back to our origins? These are questions that are answered instinctively when visiting the Timanfaya National Park, the highest expression of volcanism on the island and one of the most representative of the Canary Islands archipelago.
 
What to do when visiting Timanfaya
The 5,000 hectares of volcanoes and untouched lava fields of this national park have a lot to offer. Untouched by human hands, neither vegetation nor climate have had time to modify the pure beauty of this red and jet land included in a Unesco Biosphere Reserve.
 
Mancha Blanca Visitor and Interpretation Centre
Before immersing yourself in Timanfaya, we recommend you visit the Mancha Blanca Visitor and Interpretation Centre to get a first-hand understanding of the peculiarities of volcanism in Lanzarote.

Inside there's a large room that houses a permanent exhibition on the volcanological phenomena of both the archipelago and the island, as well as its flora, fauna and coastline.

There's also an adjoining audiovisual room that explains the history of Timanfaya through a photographic and video montage. There's also a library, photo and video library and newspaper and periodicals library.
 
Montañas del Fuego
Born of the violent volcanic eruptions that hit the south of Lanzarote, these Fire Mountains (Montañas del Fuego) possess the beauty of devastation and offer a special palette of colours that leaves no one indifferent. Without a doubt, the visitor is dwarfed by such a natural spectacle.
Inside out of the earth rises majestically the Islote de Hilario, a true lookout of a sea of lava of about 200 square kilometres where 25 sleeping craters rest. Here, the great Lanzarote artist César Manrique gave free rein to his restless mind.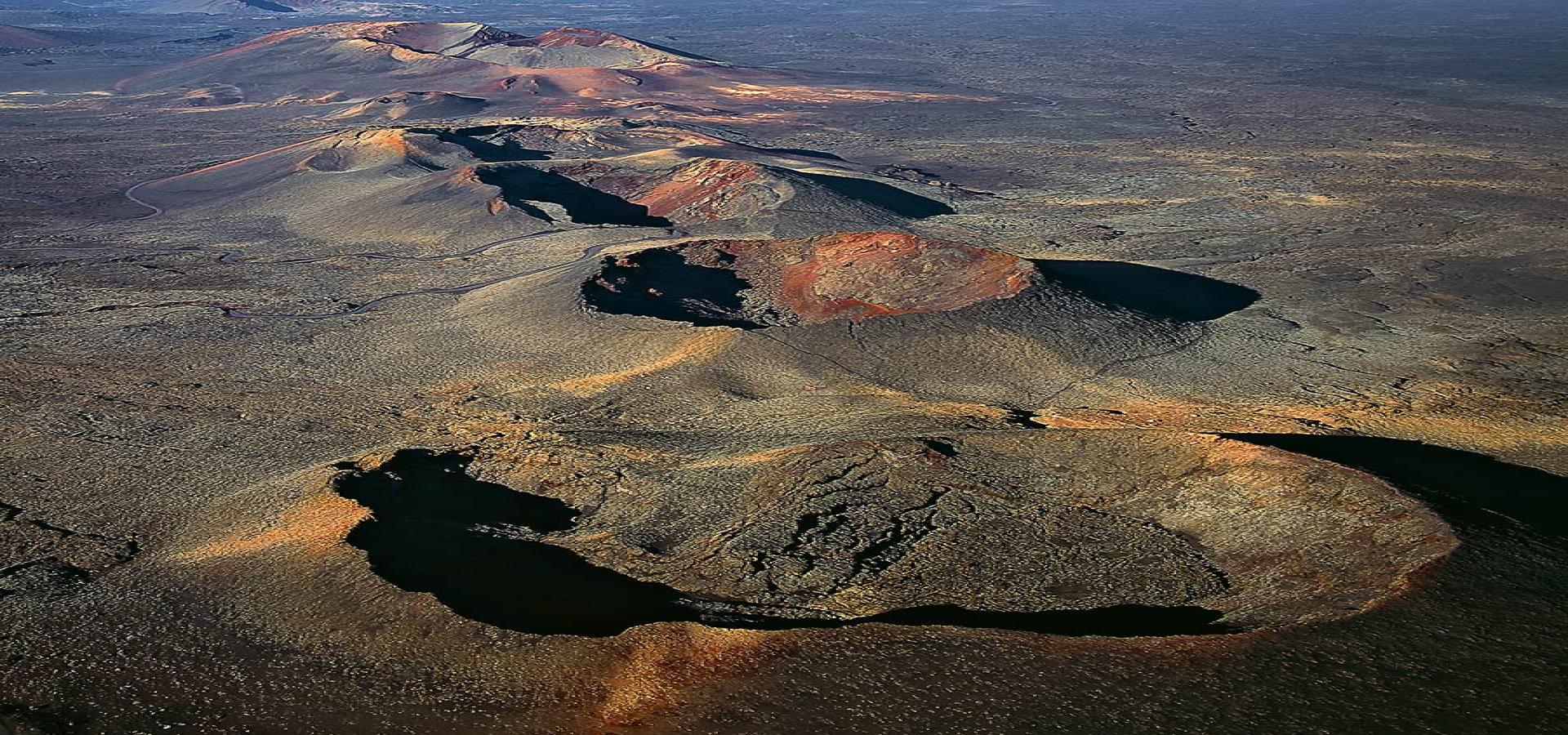 He devised the restaurant El Diablo to bring that wasteland to life in an extraordinary integration between human creation and nature. His oven uses the natural heat of the earth to prepare unique dishes. Underfoot, at a depth of about ten metres, the earth boils at a temperature of almost 300 degrees Celsius.
 
Echadero de los camellos
Did you know that dromedaries came floating to Lanzarote? Yes, you read that right. The first Europeans brought them tied on their boats from neighbouring Africa thanks to their great buoyancy. 

Visitors to the Timanfaya National Park can enjoy a short ride on the back of a camel along a path that runs along the southern slope of the mountain that gives Timanfaya its name.
 
Hiking routes
Hiking enthusiasts are in luck thanks to two audio-guided routes that lead to the most emblematic spots: almost unaltered volcanic cones and tubes, temperamental lava flows that are beginning to be colonized by lichens and fields of reddish pyroclasts.
However, to walk through this landscape that has remained virtually unchanged since its creation, it's advisable to book a place on the Coastal Route and the Termesana Route, with their corresponding short versions, all of which are free of charge.
Where to stay when visiting Timanfaya
If you had to choose an accommodation where you could unwind after an intense day visiting this majestic park, the HD Beach Resort & SPA would be the place of choice.
Located in Costa Teguise, just a 30-minute drive from the Timanfaya National Park, it's an all-inclusive paradise right on the beach. So, if you also like sports, there are countless options here.
 
And you, what are you waiting for to visit Timanfaya? Coming to Lanzarote and not discovering one of the most visited national parks in Spain is a sin. Don't miss the opportunity to discover the island's volcanic nature in all its splendour.