If there's one place where love is in the air, that's definitely Gran Canaria. Did you know that this Spanish island is also known as the 'miniature continent' due to its diversity of landscapes? That's the reason why there are plenty of romantic things to do in Gran Canaria, from paradisaical beaches for walking hand-in-hand, clean clear skies for lying under and stargazing, lush forests ideal for hiking...
 
This is and island full of charm to enjoy with your better half and where you'll feel that you're the two most special people on earth. And the better part of it is that Gran Canaria 'suffers' from a climate with over 300 days of sunshine each year and an average temperature of 21º that guarantee unforgettable memories with your partner. Thus, a romantic getaway is possible whenever you want, just don't forget to take sunscreen!
 
For many couples, if not all, February 14th is an important day. It's a date for romanticism, surprises, passion and, especially, to celebrate the mutual love professed for each other differently than during the rest of the year. It's a special occasion to get away from everything and discover paradise together. And is there a better place than Gran Canaria to experience a Valentine's Day that lives up to your dreams?

Gran Canaria is THE perfect destination for couples that are looking to experience new adventures, thanks to its good weather and good vibes. Spending a few fun days together or rekindling a flame that has faded a bit is always a good plan. Thus, if you're interested in discovering the best of Gran Canaria for couples, below are the best activities for travelling lovebirds.
Top 5 romantic things to do in Gran Canaria
Gran Canaria is a place full of contrasts. In fact, this island located in the middle of the Atlantic Ocean just a few hours flight away from the main European cities allows the visitors to get a tan in a sandy beach and experiencing its inland rough nature first hand in a single day. But it doesn't need to be Valentine's Day to do any of these romantic activities in Gran Canaria with your partner.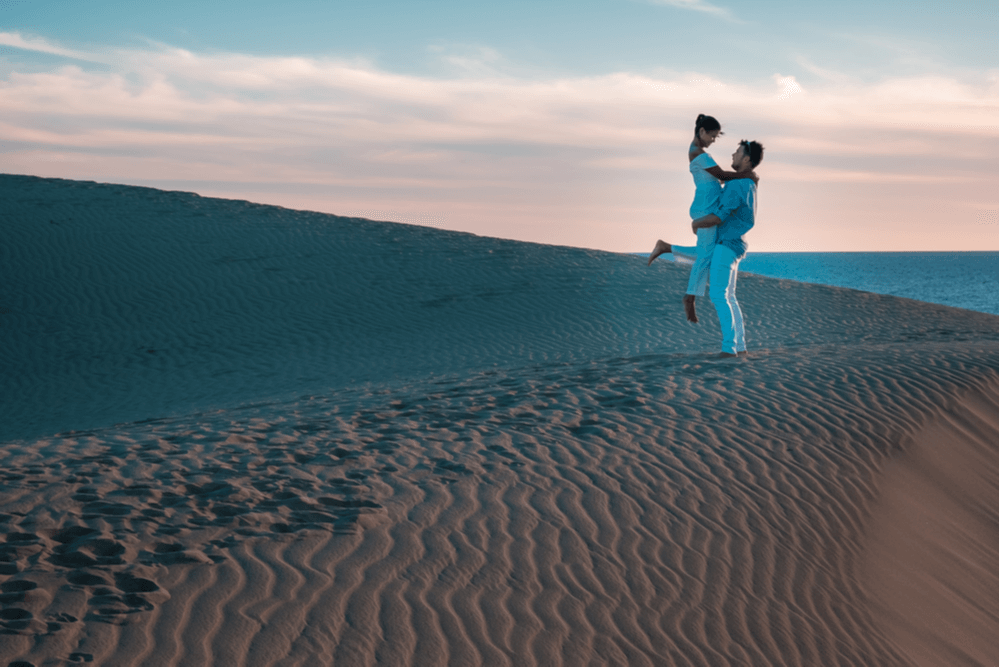 1. Watching the sunset at Maspalomas Dunes
Next to Playa del Inglés, the dunes in Maspalomas are, probably, one of the best spots to easily watch a beautiful sunset with your soulmate. It doesn't matter if you're sitting on a sand dune with the lighthouse silhouetted on the horizon or walking under the palm trees, Maspalomas gets amazing sunsets almost every day. Indeed, the most beautiful sunsets are reflected upon the waters of Gran Canaria, as their colours inspire eternal promises.
2. Strolling along Mogán canals
Mogán is love at first sight. This beautiful fishing village is also known as the 'Little Venice' because of its canals that link its marina. Walking next to the beautiful colourful houses that line the streets leading to the harbour is proof of why this is one of the best romantic things to do in Gran Canaria. Its windows adorned with flowers will give you a peaceful feeling that you two won't want to end. Also, a romantic dinner tasting the local fresh fish is a must!
3. Having a drink at Parque Doramas
If you're suffering from greenery withdrawal symptoms on your visit to Gran Canaria, get your fix at Parque Doramas in the capital city of Las Palmas de Gran Canaria. With a spanning 47,800 square metres, it shows local flora like dragon trees, ficus, palm-trees and other local species. Its cascade fountains and the vast vegetation invite couples to relax after a tour day and enjoying a good coffee while listening to the falling water.
4. Discovering nature at Jardín Canario
Spain's biggest botanical garden is also one of the most impressive anywhere in the world. With around 27 hectares, it's a great place to spend a few hours wandering about with your couple and a camera to capture magical moments next to endemic flora. As there are no bars or restaurants around, don't forget to bring your own food and drink to enjoy a beautiful picnic along the ponds.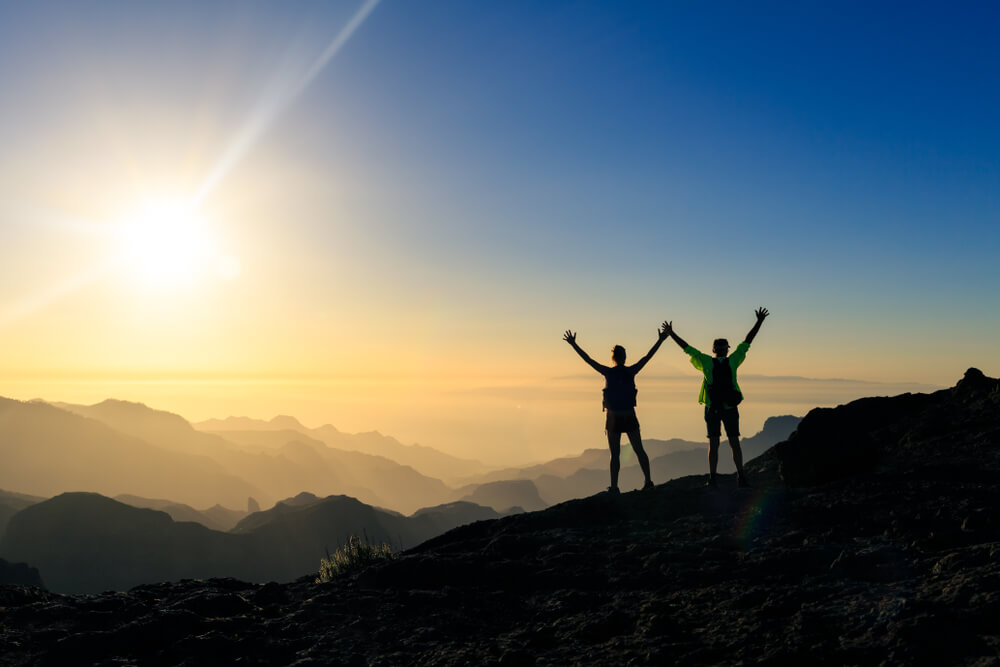 5. Contemplating the island at Degollada de Becerra Viewpoint
One of the best romantic things to do in Gran Canaria is feeling nature first hand. Nature is always present in all love stories and your adventurous spirit can take you far away, walking along magical paths in the heart of Gran Canaria. Enjoying the Degollada de Becerra lookout and the idyllic views of the Roque Nublo, the Roque Bentayga, the charming village of Tejeda and the Teide on the neighbouring island of Tenerife is a unique experience.
 
In order to enjoy the hidden side of Gran Canaria to the fullest with your partner, there's no better idea than staying at one of the best hotels on the island, those of HD Hotels. Thus, if you prefer a typical resort with amazing features you'd probably choose HD Parque Cristóbal Gran Canaria, the place where you two won't have to worry about anything anymore!
 
But if you're more of an urban person, Acuario Lifestyle Hotel is truly made for you! Its central location in Las Palmas de Gran Canaria next to the cruise terminal is the best choice to enjoy a cosmopolitan city with plenty of culture for everyone, such as its museums and theatres that are, undoubtedly, one of the best romantic things to do in Gran Canaria. What are you waiting for to enjoy this island with your true love?